Bailout Training
Members of the North Massapequa FD conduct their annual 'bailout' training; which is a requirement to maintain interior firefighter ('Class A') status.
The 'bailout' system was instituted after two FDNY firefighters leapt to their deaths from a fourth-floor fire in a Bronx apartment on Jan. 23, 2005. Four other firefighters who jumped were seriously hurt, including two who tried to use a rope that one of them carried. Those two could not make quick or effective use of it, and they, too, fell to the ground.
The 'bailout' system has gone through several alterations, since its' inception, and the North Massapequa FD has issued its members the most up-to-date version.
Just another tool firefighters can use to remain safe in a dangerous situation.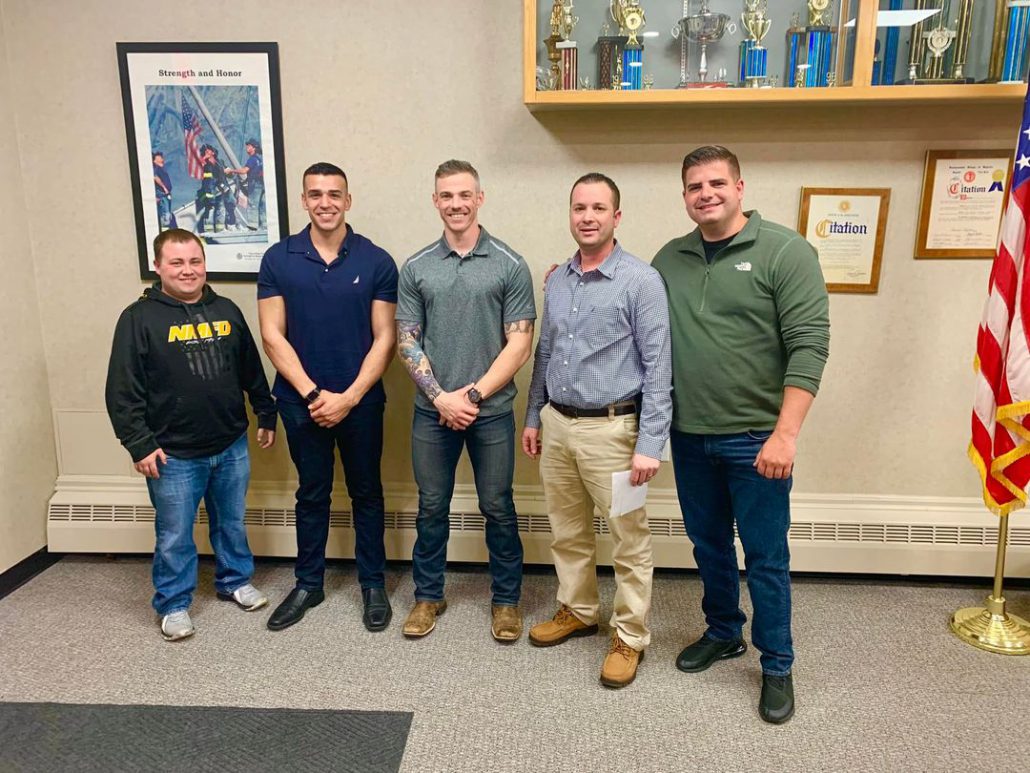 NMFD Swears in newest members.
Congratulations to Matthew Presta (second from left) and Nicholas Tallet (center) who were sworn in as firefighters with the North Massapequa Fire Department. Firefighter Presta will join Ladder Company # 1 and Firefighter Tallett will be joining Friendship Engine Company 3. The oath of office was administered by Chief of Department Mark J. Frascella (second from right). Also on hand were Ladder Company # 1 1st Lieutenant Robert Schmidgall (left) and Friendship Engine Company # 3 Captain Tyler Lawson (right).
NMFD HOSTS 47th ANNUAL CHILDREN'S
RAG-A-MUFFIN COSTUME PARADE
Members of the North Massapequa Fire Department (NMFD) hosted their 47th Annual Children's Rag-A-Muffin Costume Parade on Halloween, much to the delight of residents. "The Rag-A-Muffin Parade is always special, but this year has added meaning because the pandemic forced us to cancel the festivities last year," explained Chief of Department James M. Maroldo. "For the past 47 years, we have hosted this outstanding event and it has brought tremendous joy to our community's families, and especially our young people."
The Annual Children's Rag-A-Muffin Costume Parade is typically held on the Sunday prior to Halloween. But, this year's event fell on Halloween, which provided some extra atmosphere to an event already charged with excitement. "It was great day for the children," Chief Maroldo said. "They got to wear their costumes at the parade prior to Trick or Treating and later saw Santa Claus himself riding on top of the Department's Ladder Truck!"  Youngsters also had a chance to win a bicycle or other great raffle prizes and enjoyed hot dogs and orange drinks served by the first responders.
Chief Maroldo said the parade is extremely popular because it brings everyone together in celebration. "We are a tight knit community and this event personifies the special bonds we all share as North Massapequa residents," Chief Maroldo said. "Our department members are extremely proud of this event and I know our community is looking forward to many more years of the Rag-A-Muffin parade. The Chief thanked all who participated, both parents and children alike, and also acknowledged the event's sponsors and the support of the Plainedge High School Band, which led the procession and played brilliantly. "The Plainedge Band is amazing," Chief Maroldo. "They are such an important part of the Rag-A-Muffin Parade and help make this day special. It takes an entire community to make an event like this successful and it is truly an honor to host the Rag-A-Muffin Parade on behalf of North Massapequa."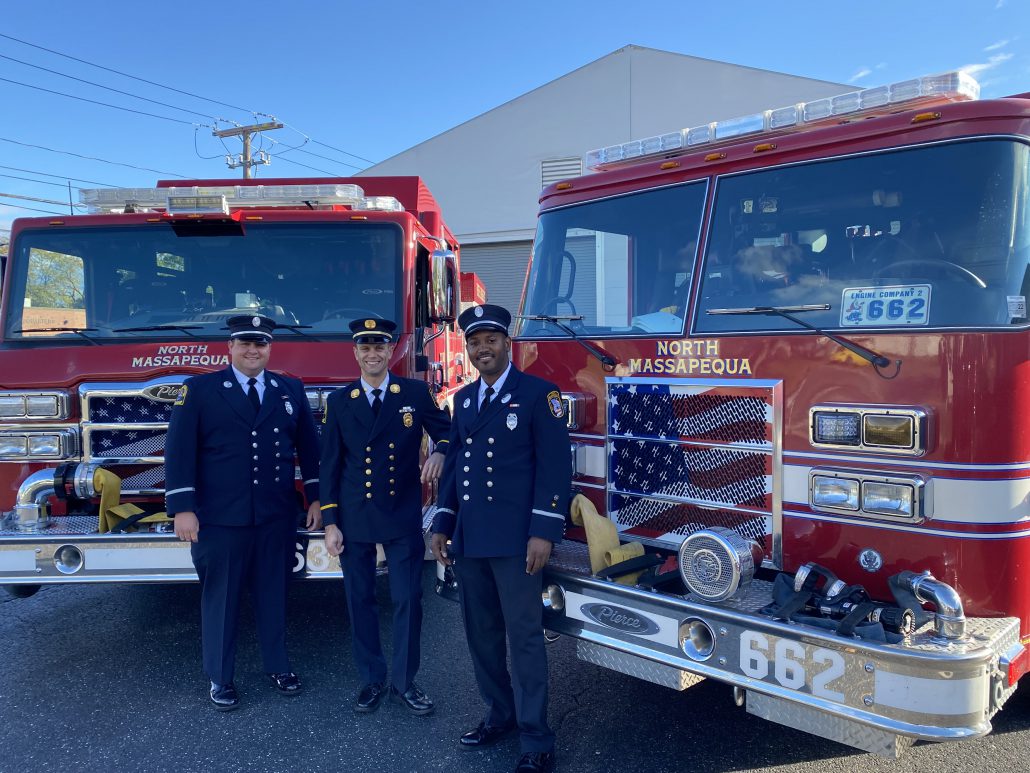 NMFD ENGINES BACK IN SEVICE AFTER FIRE
The North Massapequa Fire Department is proud to have two of their engines back in service, after both were significantly damaged in a devastating fire at the department's headquarters on Broadway. The refurbishment of the two pumpers, a Pierce Lance and a Pierce Velocity, included significant upgrades to the apparatus improving their efficiency and function.  The two 1500 gallon-per-minute pumpers known as 662 & 663, are operated by the department's Hose and Engine Company 2 and its members are more than pleased to have their state-of-the-art units back in operation.
Members of the North Massapequa Fire Department proudly celebrated three of their distinguished members at their recent annual installation dinner. "Ex-Chief and North Massapequa Fire District Commissioner Frank A. Nocerino, Ex-Captain and Past Fire District Commissioner George O'Brien and Ex-Captain Gary Pysock, all have reached the amazing milestone of five decades in the fire service," Chief of Department James M. Maroldo said: "Their legacy of protecting the lives and property of their neighbors is something truly extraordinary."
Frank, a proud member of Ladder Company No. 1, has devoted his life to community service. He has been involved in all levels of the fire service and, in addition to his service as Company Captain and Chief of Department, served as President of the Association of Fire Districts of New York State and also as Chairman of the Nassau County Fire Commission.
George is a member of Hose & Engine Company 2 who served as Company Captain before being elected to serve as a Commissioner of the North Massapequa Fire District, where administrative skills enabled him to skillfully balance the needs of the fire department and the taxpayers of the district. George has been active in many other diverse capacities within the department.
Gary is a member of Friendship Engine Company 3 and ably served as his company's captain. Aside from being an active first responder, Ex Captain Pysock serves on the Department's Board of Directors, was a long time member of the Gremlins Drill Team and serves as Chairman of the Fire Prevention Committee.
"We are particularly fortunate to have the service of these three outstanding members of our department," said chief James Maroldo. "The success of any agency is contingent upon the dedication of exemplary volunteers like them. The sacrifices they have made is greatly appreciated and highly respected and I wish them all the best in the future."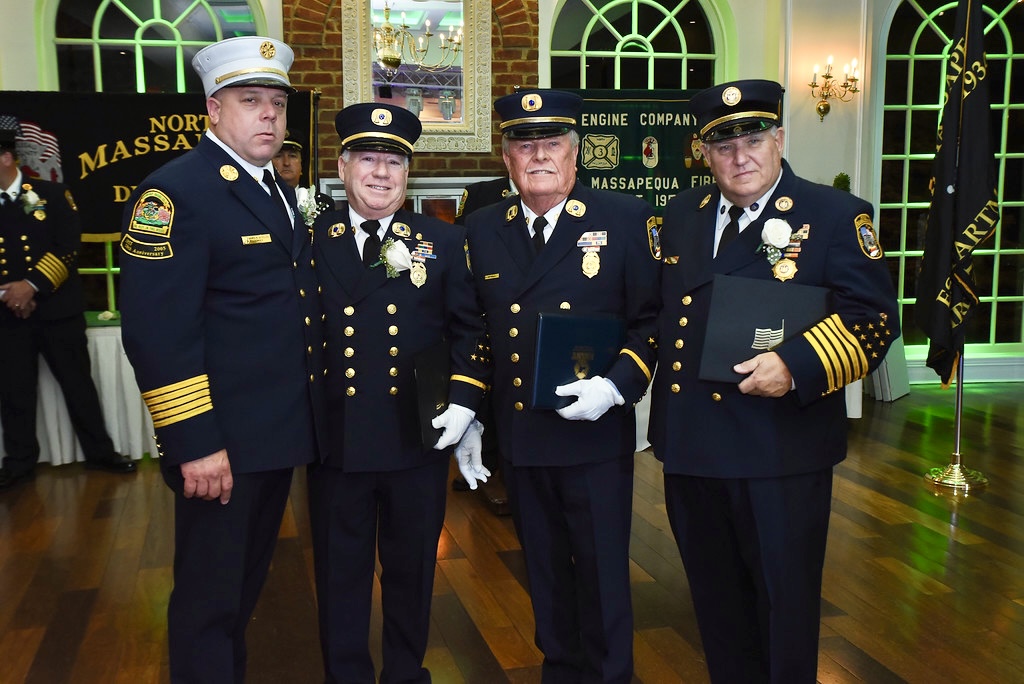 ---
The North Massapequa Fire Dept, honored one of it's members, Jackson Pokress of Friendship Engine Co #3, as he turns 100 yrs old today.
Pokress, A World War II combat photographer who was affiliated with 'Merrills Marauders' as well as the Korean War has been a member of the North Massapequa Fire Dept for over 65 yrs.
Pokress is seen here with Congressman Peter King, members of Friendship Engine Co #3 and the rest of the North Massapequa Fire Dept.